Contents
Voter Registration / Ballot Request – Online
Voter Registration / Ballot Request – Personal
Promotional material
Polls and Predictions
---
It's time to Get Out The Vote (GOTV) again! This time for the Midterm Elections on November 6
th
.
Voter registration team members from American Voices Abroad (AVA) and Democrats Abroad - Berlin (DA) are gearing up to Get Out The Vote again and personally register American expats in Berlin for the federal midterm elections. As most Americans in Berlin tend to be registered already, the primary message now is ""
Voter Registration / Ballot Request - Online
Voters can fill out an online-assisted registration and application for an absentee ballot at one of these three websites:
In all cases, the application needs to be printed out, signed, and mailed to hometown election offices. The possibility to correspond by e-mail is becomming more common. That is, the registration/application can be scanned in once it's been signed and sent to the election office by e-mail as an attachment. The ballot itself can optionally be sent via e-mail to be printed out. This finally can be scanned in again and sent back along with a signed voter declaration.
Voter Registration / Ballot Request - Personal
Voter registration team members can personally help with registration or ballot requests at registration tables at various events around Berlin. I am organizing, participating in, or know about the following past and planned events:
Voter registration and consultation is also possible occasionally at the monthly meetings of
American Voices Abroad (AVA)
and
Democrats Abroad - Berlin (DA)
.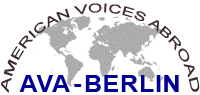 More locations planned and suggestions are always welcome!
Promotional material
We try to get Americans interested in voting abroad by distributing flyers in American restaurants, stores, and other institutions. Will send them also by e-mail again to the foreign-student offices of universities where Americans might be enrolled.

Downloadable flyers with some of the above information in various formats and promoting the different websites:
Polls and Predictions

Electoral-vote.com is always a pretty accurate source to follow the tendencies.
RealClearPolitics is pretty good too.