Written for Burns Night 2007
'Twas many, many years ago,
Yes, when my hair still had no grey,
My youth back then was quite aglow
On a fateful summer's day.
Was such a handsome lad you see,
Who woo'd all the country lasses.
I had my favourites; there were three,
O'er all the hills; they were the fairest graces.
The days of frolic, endless fun
Could nought go on for evermore.
I'd have to choose a bride - just one,
Just like Prince Paris of Grecian lore.
To make such choice is really quite unkind,
Not only for the two that loose,
But 'cause great labour for my own young mind.
A wife for life, no matter who you choose.
My mind was not so infantile,
I'd put the lasses to a test,
Extend the process for a while,
Then hopefully select the best.
A gentleman I was of good fortune.
I gave each lass one thousand pounds to spend
On something to impress me in the month of June.
Then in July the test would end.
I give a tribute to the ladies,
For each worked hard on every day,
Employed the best of their creativity
To surprise me in each of her own way.
The first embarked t' improve herself:
Attended gym class seven days a week.
Slimmed down two sizes; looks like an elf.
Plus French cosmetics for rosy cheeks.
She spent a lot at the coiffeur to have her hair done.
At Geoffrey Tailor she outfit herself in highland dress and regalia.
Secret were the undergarments she had on;
They say they had been purchased from Victoria.
Lass number two decided to improve on me.
She bought a sporran made with real seal fur.
A weekend drive with a Jaguar Type-E
To Royal and Ancient Club to play golf there.
Plus a barrel full of twelve-year scotch whisky.
The third young Miss thought wisely to invest.
She put it into stocks that were skyrocketing
And prudently bought bonds as well with high int'rest.
Within a month my cash was more than doubling.
Thus each lass has tried to win favour with me:
One by being the fairest in all the hills,
Two by pleasing men's wishes and brushing up my vanity,
Three by showing how to pay for all the bills.
Alas, I found it too hard to decide!
It seems 'twas me that had to pass the tests.
So who then did I pick to be my bride?
Well, I just chose the lass who had the biggest ....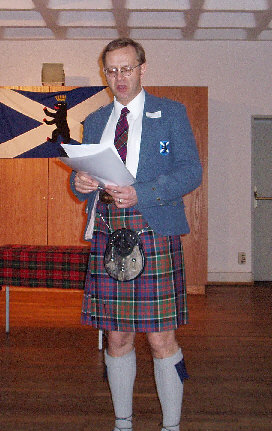 Alan reading this poem at the Burns Night, February 2007