Class of '77 meets for an overnight party at Schloss Blankensee
This year was our class' 40th reunion. The idea was brought forward at our last reunion five years ago that this time we ought have and overnight party so that we really have enough time to get to talk with each other. And that was realized on the weekend of 7-8 October 2017.
The organization team (Fedor Ernst, Claudia Peter, Friedhelm von Blanckenburg, Petra Linke, Marthina Koerfer, and me) met early in the year and explored how much support there is for this idea of an overnight party outside of Berlin. We set the date for the first weekend in October and also provided an alternative for just a Saturday get-together, plus we offered a bus tour for that Sunday. We were pleasantly surprised by the overwhelming approval for the overnight concept. By the weekend, 32 had signed up for the overnight party plus just one who wanted to stay only for the evening. About a half-dozen sent their regrets that they couldn't come yet passed on nice
greetings
.
So we began the search for a good location. Friedhelm knew of several retreat/convention centers through his academic work and we quickly zeroed in on and reserved Schloss Blankensee near Trebbin, about half an hour south of Berlin. We estimated overall costs of about €135 per person – was €150 then, which included the evening's drinks – including the bus tour on Sunday. We collected sponsorships to offer financial support for those who find they might not be able to afford that, but it turns out no one took us up on the offer. A surplus would be donated to the JFKS alumni association.
In September, the organization team toured the palace then, viewed the rooms for the party and lodging, and explored the gardens. We were impressed by the quality of the menu offered, the convenience of the flat rate for the drinks, the beauty of the historic castle and gardens, and the comfort of the attached bedrooms. Claudia then organized the room assignments and it seems everyone paired up easily.
We had a bit of a worry two days before the party due to a strong wind storm crossing northern Germany, which disrupted rail travel in particular. It affected a couple travelers, but they were able to catch trains that did come through or come by car after all.
Saturday's meeting
On Saturday the 7th, the big day arrived. Most people drove directly to the Schloss either by car pool or by themselves. Others met at school at 2 in the afternoon to provide rides for those who needed transportation. We were welcomed with coffee and cake by the friendly hotel staff who passed out the room keys. The buffet room and the adjoining green room were soon abuzz with old classmates and friends reconnecting. Like last time, Max traveled the furthest for this event, flying in from Florida, Irini came from Greece, Kläre from Norway, André from Austria, and Kaspar from Switzerland.
Those attending were: Tahani Adnan, Alan Benson, Friedhelm von Blanckenburg, Thomas Danne, Fedor Ernst, Derrick Fulton, André Gahleitner, Iris, Gamradt-Ruge, Roy Gerstenberger, Wulf Goerke, Dorothea Goldschmidt-Eberlein, Ilse, Groß, Kaspar von Hammerstein, Ulrike Henning, Georg Jaesrich, Hans-Ullrich Kessler, Max Kiebach, John Kiernan, Manfred Köcher, Marthina Koerfer, Petra Linke, Andrea Müller, Thomas Nick, Irini Paicos, Claudia Peter, Karsten Peters, Kläre Poelchau, Ronald Rabau, Ute Remann, Oliver Remme, Nicola Rönnpag, Doris Timm, and Peter Zuriel.
The weather turned rainy during the afternoon, but a group of us gathered anyway to take a walk through the gardens and environs. We were impressed by the classy style of the gardens, which had been designed by Lenné. We saw however that some grand old trees had been knocked over by the storm. Outside of the grounds, we wanted to take a walk out to the actual Blankensee, but a fallen tree blocked the path, which unfortunately was also cordoned off by the authorities.
Meanwhile, back at the Schloss, the video projector had been set up in the center hallway/staircase. Classmates were enjoying seeing pictures some of us had submitted of past class reunions (e.g. from this site), class trips, and class pictures of us during elementary school. Had a good time guessing who was who of the "little" kids. A table was set up there too with old school memorabilia such as our yearbook and schoolbooks that hadn't been returned! Derrick also had elementry school class photos where everyone's name was to be added. People also updated the class list on the clipboard.
A request had been forwarded during the planning phase not to organize too many activities and games so that we would have generous time to simply converse with each other. One activity that was suggested by Ute though that was important, was writing down important facts and interests somehow of everyone that could be shared and would be good starters for conversations. Petra and I presented four poster-sized sheets then for us all to write down what our profession was or what we do and why, what we were proud of, what our favorite thoughts about JKFS were, and something about house, home, kids, and dog (?). Wulf for example was able to discover that someone else was interest in motorcycles. It also seems we have almost a dozen grandchildren altogether – five years ago there still were none.
The buffet dinner was grand as well, featuring French and Mediterranean cuisine (e.g. breast of Breton guinea fowl filled with ricotta and sage). Drinks such as wine, beer, soft drinks and water were included. We all fit snugly in the green room where we would switch tables after getting a new plate full of dinner or dessert. I think I was thus able to speak at least a few words with everyone at the party throughout the evening.
After the dinner, Petra and I presented our pub quiz. Teams were randomly assembled by everyone having to find their teammates by matching together pieces of four different small puzzles. We had questions about politics and pop culture of 1977 as well as trivia about our school life. Some of the questions were difficult (who was the mayor of Berlin), some tricky (which "King" died), and some easy (who was our principal and what kind of car did classmate Jay White drive). Two teams tied for first place. Fortunately, I had two equal bottles of Sekt along. The other teams got prizes as well.
The rest of the long evening was relaxed then. There was dancing going on in the center hallway. Most of the party was found in the many and animated conversations going on in the green room or in the adjoining salon where people were poring over those poster sheets and starting up conversations there as well.
Around midnight, the staff retired and told me that I was now the "Schlossherr". Gradually the crowd diminished after that. A couple of tables still held out for a while, but at 4 in the morning I was able to extinguish the last candles then and turn out the lights.
Sunday's bus tour
Seems everyone slept well. We gathered then for a plentifully and leisurely buffet breakfast.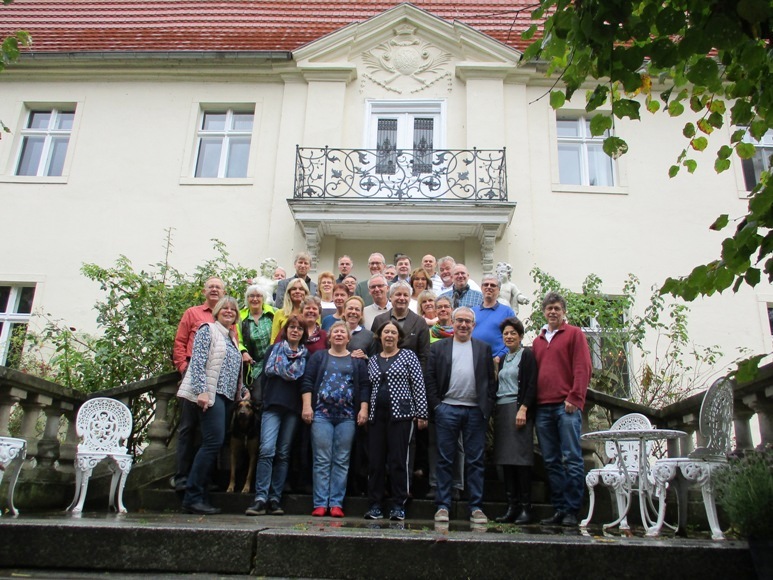 Before departing, we assembled one more time on the entrance steps of the Schloss for the big group picture. Then we caught our rides back to school for the bus tour. Derrick and Karsten rode there by train and bike. Some others had to head home already.
Our Berlin Express tour bus was waiting for us on Teltower Damm in front of school at 11:30 along with our tour guide Chris McLarren. I had invited a couple of our old teachers to join us for this, but unfortunately they were too ill or never responded. However, some spouces or partners did join us. Chris took us on tour into Berlin then, which included some sites we had suggested, under the topic "Berlin, wie man es nicht kennt." Chris had some stops planned that also touched on our German-American background. First stop was in front of the Steuben statue near the Allied museum. On the street through Dahlem then many of the class pointed out various houses and streets where their families used to and still do live.

Next stop was in front of the Schöneberger Rathaus. Chris recited Kennedy's famous "Ich bin ein Berliner" speech for us, which some of us had actually heard in person already 54 years ago this summer. We got out of the bus at the fomer Templehof Airport then to take a look at the big eagle head there and hear Chris tell of its history.
The last stop of the tour then was a historical neighborhood near Alexanderplatz to look at some sites you usually just drive by without touring. There were the ruins of the Graues Kloster with the weird modern blue sculpture in its middle. Walked past some remains of the medieval Berlin Wall and the quaint, old-Berlin restaurant Zur Letzten Instanz then to the Parochialkirche. Its bell tower was restored just last year. Would have liked to have seen the recommended interior, but it was closed (on a Sunday!).
Our bus returned us to school then. Just after we got out, Tina Skupin from the JFKS Alumni Association was there to pass out promotional material. At this conclusion of the tour, I announced to all that the Alumni Association would receive funds left over from our reunion as a donation.
Most all departed ways then. A small group though still went on for a lunch at Luise in Dahlem Dorf. We agreed that it had been a very enjoyable event that can be repeated and that we do not need to wait that long to meet again for some other kind of get-together.
Peter Zuriel sent this humorous note on plans for future reunions:
Auch von mir 1000 Dank für die Initiative und tolle Organisation. Kleine Vorschau:
1. Korrespondenz zum Klassentreffen 2027: "Was haltet ihr von einem Klassentreffen im Schloss Blankensee?" "Warum dort?" " Dort gibt es bequeme Sessel und leckere Schonkost"
2. Korrespondenz zum Klassentreffen 2032: "Was haltet ihr von einem Klassentreffen im Schloss Blankensee?" "Warum dort?" "Dort gibt es Rollstuhlrampen und man kommt überall mit dem Rollator hin."
3. Korrespondenz zum Klassentreffen 2037: "Was haltet ihr von einem Klassentreffen im Schloss Blankensee?" "Prima, da waren wir ja noch nie!"
The Alumni Board (Tina Skupin) wrote as a response to our donation:
Dearest Alan, our treasurer (Petra Abshagen) told me about it and it fell together with Steve Hepner's funeral preparations and I am soo sorry I totally forgot to write you guys a thank you mail, which I still will do officailly. Thank you so much for this donation!!!
---
In the meantime, do check out these two Websites: